Due to the Coronavirus lockdown Plaztek, is taking a temporary change of direction. In addition to our new Instagram page, we'll be utilising this website more, updating it regularly and adding some exciting new sections; including:
Fertility clinics
Advertising site for pups
A stud section
Local vet's directory
Please note, priority will be given to all people that are in my Plaztek Whelping Systems group on Facebook, those on my friends list and the people that have joined the new Instagram page. We are committed to investing in people and the businesses that support them. Don't wait until it's live then wonder why you're not added!
WELCOME TO PLAZTEK LIMITED
Plaztek Limited has been a leading supplier for the past thirty years and we offer a service that is second to none from planning to fitting.
The company was started by Ryan Tilsley, a man who completed a four-year apprenticeship at HG2 before spending 20 years at the company. He then ventured out on his own as Plaztek Limited, developing it into the biggest supplier in the country, subcontracting 50% of his work back to the company he once worked for.
Whether you are building a complete new cattery, kennels or just having a refit, we will assist you through all stages from planning to fitting. Our goal is to provide quality accommodation that best suits your needs at the most cost-effective way possible.
– We will visit site for survey free of charge
– We will design your kennel rooms free of charge
– Send you all drawings free of charge
– Send a quotation for the work
Once this process has all been carried out and our drawings meet your requirements, they can be signed off so that the manufacturing process can begin.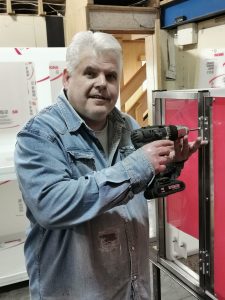 Fabricator
Steve has 32 years of fabricating experience, starting his career at HG2
Anne Gleeson
The cages arrived safely at the shelter clinic in Romania today. A perfect fit! Thank you for all your patience Ryan.
Christina Robson
Messaged Ryan and he helped me with the right whelping box a needed. Delivery was so quick, service was fab and I 100% recommend the; Best whelping boxes I have ever seen – thanks again!
Margaret Roberts
I received my indoor kennels last week and I must say they have solved a huge problem at feeding time as I know that everyone is receiving their fair share of there food and no more greedy eaters and squabbles over the last mouthful. They are ideal for separating at bedtime as it gives them more space; the only problem is they don't want to get out of bed in the morning! I would just like to say a big Thankyou to Ryan for the very prompt response to my enquiry. They were delivered and installed the following week as promised, the delivery driver was great with the installation. A very good service and to be recommended.
Taryn Lyndon
Absolutely over the moon with these new cages for my grooming salon. My day is so much easier now. Thank you, Ryan and all at Plaztek.
Winston French
Received my new whelping unit today and wow, what a fantastic job. Ordered last Tuesday and it's just what I ordered. Ryan was very helpful and explained everything as I was ordering on the phone; Thanks Ryan, I would highly recommend – cheers mate!
Contact Us
Plaztek Limited,
Unit 2
Enterprise Drive
Four Ashes
Wolverhampton
WV10 7DF
TEL: Wolverhampton (+44) 1902 790007
Contact us now to discuss your requirements